Altoona Area High School (Altoona, PA)

ANNOUNCEMENTS
Relatives who have passed recently:
Our deepest sympathies to classmate Gail Myers Thompson and family on the passing of her husband:
George Francis Thompson Jr. - Mar. 6, 1945 - Nov. 23, 2020
George Francis Thompson Jr., 75, Altoona, formerly of Harrisburg, passed away Monday at UPMC Altoona following a battle with COVID.
George was born in Harrisburg, son of the late George Francis and Mary (Paull) Thompson Sr. On Sept. 19, 1998, he married Gail L. Myers.
In addition to his wife, he is survived by his son, Bernie (Laurie) Thompson of Bellevue, Wash; daughters, Dr. Sylvia V. (Iyah) Romm of Cape Cod, Mass., Barbara R. Thompson of Bellevue, Wash., and stepdaughter, Tracy (JD) Martin of King George, Va.; five grandchildren: Drew and Connor Thompson, Ari and Sebastian Romm and Nathan Falger; his brothers, Richard Thompson of Harrisburg and Edward of Middletown; sisters, Kathy Gabriel of Middletown, Patricia Licadello of Harrisburg and Mary Ellen Ward of Rising Sun, Md.
George was a graduate of Bishop McDevitt High School in Harrisburg. He went on to receive his bachelor's degree in accounting from Gannon University of Erie and a master's degree in public administration from Penn State University. He served in the United States Army during the Vietnam Era. George had a long career as an accountant for the Commonwealth of PA, retiring in January 2004 as the head accountant at the Hollidaysburg Veterans Home.
He was the treasurer of the Blair County Democratic Committee, a member of the City of Altoona Planning Commission and a member of the Unitarian Universalist Fellowship of Blair County. George enjoyed line and ballroom dancing and taking walks with his wife, Gail.
Due to the COVID-19 pandemic and for the safety of all, there will be no visitation at this time. A celebration of life will be held at the convenience of the family.
Arrangements are by The Stevens Mortuary Inc., 1421 Eighth Ave., Altoona. (stevensfamilyfuneralhomes.com)
Condolences may be made at www.stevensfamilyfuneralhomes.com or Stevens Family Funeral Homes Facebook.
---
Relatives who have passed recently:
Our deepest sympathies to classmate Dave Shellenbarger and his family and friends on the passing of his mother:
Dolores 'Pat' Shellenbarger - Sept. 23, 1926 - Nov. 23, 2020
Dolores 'Pat' Shellenbarger, 94, passed away Monday, Nov. 23, 2020, at Communities at Indian Haven, Indiana. She was born in Altoona, daughter of William and Bertha (Fleck) Fochler. She married Nelson "Bo" Shellenbarger on May 29, 1950. He preceded her in death on April 6, 2015.
She was a member of St. John the Evangelist Parish Catholic Church in Altoona.
Surviving are her sons, David (Randi), Mark (Jan) and Jim (Teresa); grandchildren: Ryan (Grace), Beth (Eric Porter), Adam (Rachel), AJ and Becky; and great-grandchildren; Everett and Rowan Porter and Vivian Shellenbarger. Also surviving are two sisters, Mary Sonefelt of Darby and Adelaide Fochler of Altoona.
Private family services will be held at The Good Funeral Home Inc., Alto-Reste Park.
thegoodfuneralhomeinc.com
Penn State Altoona has posted a slide show by Jared Frederick detailing a lot about the history of Altoona. If you're interested click the link (it's about 50 minutes long).
---
Here we go again!
AAHS CLASS OF 1970 -

"50th+1"

Reunion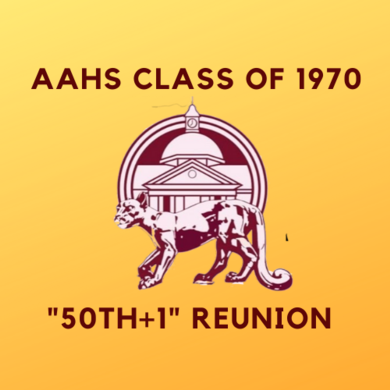 The Reunion Committee is pleased to announce our initial plans for our "50th+1" Reunion.
Date: Saturday, July 31, 2021 (one night only)
Place: Bavarian Hall, Altoona
The Committee is currently evaluating some options for a family friendly activity on Sunday, August 1, however, the coronavirus will not allow us to finalize any details probably until early 2021. Stay tuned for more details!
---
VIDEOS...VIDEOS...VIDEOS
Check out our new videos page (click here). Thanks to Larry Callan for finding these videos on the High School and Roosevelt. Feel free to recommend other videos that you think the class might find interesting.
---
We've begun our planning for our "50th+1" Reunion (has it really been that long?)! It is always our hope to make this gathering as affordable as possible for EVERYONE in the Class of 1970. If you are able and willing to contribute to the cause please click here and scroll down below the donations list. We can accept both checks and credit cards. All donations are welcome. We'll do our best to recognize each and every one! Thanks in advance for your help.
---
---
We just received word of an upcoming new CD Release featuring the music of deceased classmate, Steve Prosser. The album is in pre-release, but will be available soon at cdbaby. Depending on interest, we may be able to secure a discount on the CD (currently at $20.00/ea). If you're interested, please contact me at info@aahs1970.com and I will follow up to see what we can work out.
Below is the press release from singer Kris Adams (with her permission):
---

On Her 4th Album "We Should Have Danced", Kris Adams Sings the Music of Steve Prosser
Available October 15, 2018
Pre-Release Show: Cornelia Street Cafe, September 4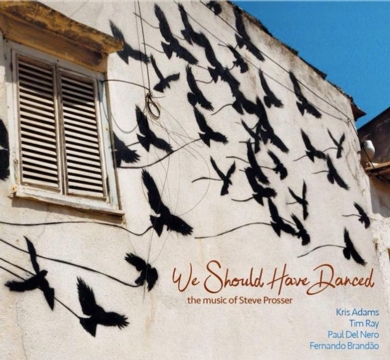 Jazzbird Records is proud to announce the October 15th release of Kris Adams' long-awaited fourth album We Should Have Danced: The Music of Steve Prosser. Featuring Adams' original lyrics and arrangements by pianist Tim Ray, We Should Have Danced is a deeply personal, poignant collection of music featuring the compositions of the late Steve Prosser, Adams' former husband, for chamber jazz quartet. The release of We Should Have Danced will be celebrated on September 4th at the Cornelia Street Cafe in New York City.
Beloved and respected by so many, Prosser lived a remarkable life as a Berklee College of Music professor for over thirty years; a decade of which was spent helming the ear training department as its chairman. On campus, Prosser was known for his passionate teaching style, talented musicianship and his larger than life persona. Prosser and Adams met at Berklee in 1981 and married in 1987. Though they separated in 2006, they remained close friends. "Besides being a master teacher, Steve was a vocalist, composer, jazz pianist, lawyer and bird lover. He loved to have his ear training students transcribe bird songs. And he and I had a running joke around the house. He would quiz me on which bird song we were hearing in the yard. Music was everything to him. Composing and arranging was something he loved to do but didn't have the desire to put his music out there. But I loved his music so making this CD is my gift to him," says Adams.
After Prosser's passing in 2012, Adams came across a folder titled "Songs for CD" amongst the items left behind for her. Inside was a trove of Steve's original music with many of the tunes having been written during their 19 year marriage. Inspired in some cases by Prosser's poetry and in other cases, by the melodies themselves, Adams wrote lyrics to some of her favorites which then were arranged by Tim Ray. "My mind was filled with images and emotions, searching to put into words what I felt from the music that he wrote," says Adams. Bassist Paul Del Nero and flautist Fernando Brandão were then added to enrich the project.
Standout tracks include the autobiographical album opener "Prophecy", which tells of the couples' first meeting, the poignant "Summer Moon Above", which features lyrics pulled from Prosser's original poem "Less Than Nothing" and the hauntingly beautiful album closer "Without You", which Prosser originally titled "For Kris". Funny and quirky, Prosser titled one song "Mumbling" which Adams retitled "Imaginings" after writing the lyric. All of the songs were retitled by Adams except for the title track, "We Should Have Danced".
Four years in the making, "We Should Have Danced" is a poignant and commemorative body of music that not only celebrates the genius of Steve Prosser but the palpable love of these two creative musicians.
"Simply put, this is the story of our lives lived together".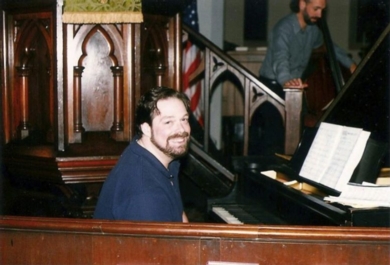 Steve Prosser
About Kris Adams:
Kris Adams began singing at an early age having grown up in a music loving family. Her grandfather played organ by ear and her mother played piano. Kris began singing on stage in a touring children's theater as a young teenager and had her first professional gigs at the age of 19 in Connecticut, singing in a latin-jazz band that the late saxophonist Tom Chapin was a member of.
Kris left Hartford to attend Berklee College of Music and New England Conservatory. She released her first CD, "This Thing Called Love" in 1999 and her second, "Weaver of Dreams" in 2002. Both were collaborations with pianist/arranger, Steve Prosser. She recorded her third disc, "Longing" in collaboration with trumpeter/arranger, Greg Hopkins. Kris has shared the stage with Joe Lovano, Wayne Escoffery, Lee Musiker, Cameron Brown, Billy Drummond, Bill Pierce, Harvie S, Jay Leonhart and Michelle Hendricks.
Kris is currently on faculty at Berklee and is author of the book "Sing Your Way Through Theory" (Hal Leonard). She has performed and given clinics in New England, New York, Los Angeles, Brazil, Germany and Italy, at the Fara Sabina Jazz Festival alongside Jonathan Kreisberg, Kevin Hays, Reuben Rogers and Gregory Hutchinson.
---
There have been
197,211

visits to this Home Page from classmates to date.
---

You can find us on FACEBOOK too! Click the logo above to go to our FACEBOOK page.