Altoona Mirror -LOCAL SPORTS
-
-
JOHN HARTSOCK -
Sports Writer (
jhartsock@altoonamirror.com)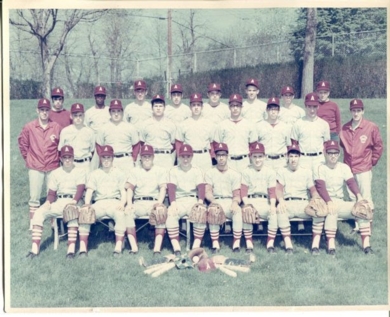 ltoona Area High School's 1969 baseball team was just about foolproof — with a solid, potent batting order from top to bottom, two outstanding starting pitchers who gave the team a chance to win every game they pitched and a stellar defense.
That District 6 champion Mountain Lions team — whose seniors will be celebrating their 50-year class reunion Aug. 16-18, as well as the golden anniversary of their 15-0 campaign that marked Altoona's only unbeaten varsity baseball season in the last half-century — even benefited from a little sleight-of-hand.
During a 12-8 victory at Philipsburg-Osceola early in that 1969 season, starting Altoona left fielder Jeff Wagner's fast thinking curtailed a potential Mounties' rally.
With Altoona leading, 9-5 in the bottom of the fifth inning and Philipsburg threatening with runners on second and third, Wagner sold the umpires on a catch that technically wasn't, getting the Mountain Lions out of hot water.
"A (Philipsburg-Osceola) guy hit a sinking liner in front of me," was how Wagner, 67, a former long-time English teacher and basketball coach at the former Keith Junior High School, recalled the moment. "I came in with a full-out stretch dive, a somersault, and I could see that the ball wasn't in my glove. I was lying with my back to the infield, and I did what I was always taught to do — I held the glove up, closed."
And he convinced the umpires, who ruled it a catch, even though the ball was actually in Wagner's ballcap, a few feet behind him.
"I saw the ball was laying inside my cap, which had flown off, and I kind of crawled back to the cap, with my back still to the infield, took the ball out of the cap, and put (the ball) into the glove. The umpire had run out to the field, ruled it a catch, and the P-O people were going nuts," Wagner said with a chuckle.
"Was it cheating?" Wagner asked rhetorically. "What was I supposed to do, tell the umpire that I didn't catch it? You're taught to put your (gloved) hand up like you caught the ball. That was the infamous hat trick."
It was one of the few instances during the season that the Altoona team needed, and received, a little bit of luck.
With two outstanding right-handed pitchers in seniors Steve Sauers (who carded a 7-0 record and 0.76 earned run average with 92 strikeouts in 52ª innings), and John Muccitelli (6-0 with 42 strikeouts in 28ª innings and a 2.14 ERA), and a batting lineup that included six starting position players who hit .300 or better, the 1969 Mountain Lions were very tough to beat.
Wagner's .500 batting average — with 15 hits in 30 plate appearances, a home run and 10 RBIs — was the team's best. Senior catcher Joe Grossman (.424, 14-for-33, 17 RBIs) and senior third baseman Ralph Williams, whose numbers were .423, 22-for-52, with a team-best five home runs, 19 RBIs and seven doubles with 23 runs scored, provided additional thump.
Senior center fielder Paul Hargreaves — who went on to play collegiate baseball at East Tennessee State University — hit .353 on 18-for-51 with two homers and 16 RBIs, while senior first baseman Denny Moses hit .344 on 11-for-32 with six RBIs and junior right fielder Mike Nagle hit .302 on 13-for-43 with 10 RBIs.
Sophomore Dave Perretta (.281 batting average) was the starting shortstop, and Bob Ramazzotti — a senior, the team's starting second baseman and the son of a former major league player — hit .270 with two home runs and 11 RBIs.
"They were good infielders," Wagner said of Perretta and Ramazzotti.
Jay Perry, who played professional baseball in the Cleveland Indians' minor-league organization, coached the Altoona baseball program for 28 seasons, with the 1969 team being his first, and arguably, his best.
Back then, there were no state playoffs. All the District 6 teams were lumped together in the district tournament, and every team's season ended after districts. Perry, now 79 and a former long-time physical education teacher at Keith, wishes the 1969 squad would have had the chance to participate in state playoffs.
"There are a lot of fond memories," Perry said. "We had a heck of a hitting team and good pitching. We won the District 6 title, but that was it. I always wondered how far we would have gone if we had state playoffs back then. We had a very good team."
Sauers, 68, who retired as a superintendent from the Central Blair Recreation and Park Commission, said the 1969 team was special.
"We were solid from top to bottom, there wasn't a weak spot," said Sauers, who struck out 16 batters in a regular-season victory at Mercersburg Academy and threw complete-game victories against Tyrone, in a 10-0 district semifinal win, and P-O, in an 11-2 district championship-game triumph, while striking out 11 and 13, respectively. "We had pretty much everything that you could possibly want — great defense, outstanding hitting, good pitching. It was an outstanding team, and I was proud to be a part of it."
Sauers and Muccitelli formed a stellar 1-2 pitching tandem.
"We had a great bunch of guys on the team who really knew how to play the game," said Muccitelli, 68. "We had great coaching with Mr. Perry as the head coach and Mr. (Jim) Chestney as the assistant coach. It's really difficult to go undefeated, but everybody on the team knew their jobs, and we were out there for a reason — to win. Playing on the team was a fantastic experience."
Altoona's closest calls were a 4-3 regular-season victory over Johnstown at Mansion Park behind Muccitelli's seven-hit pitching, and a 3-2, nine-inning win over Portage in the season opener at Mansion in which Hargreaves got the game-winning hit after making a spectacular catch in the top of the ninth inning to keep the game tied.
The depth of the batting order was a big key to Altoona's success.
"Our lineup was easy to hit in," Wagner said. "It was such a good lineup. There was power, there was speed. There was no pressure to hit — if you went 0-for-4, it didn't matter. The other guys were going to pick it up."
The seniors on the team also got along together well.
"There was a lot of camaraderie," Wagner said. "We were friends. We palled around together at places like the bowling alley."
Over the last half-century, the passing of six players on the team — seniors Hargreaves, Williams, Ramazzotti, outfielder Jimmy Ackeret, catcher Rex Fahr and sophomore pitcher and basketball standout Reese Piper — has made some of the memories bittersweet.
"It was a fun season," Wagner said. "The saddest thing is the loss of the guys that I knew. As great as it was to win, it's sad that on the 50th anniversary, how many guys aren't around to enjoy it."
The 1969 team will always be special to Perry.
"We had good athletes on the team," Perry said. "They listened, they were real disciplined, and they got along well together. They were a really good bunch of boys."
---