Altoona Area High School (Altoona, PA)

ANNOUNCEMENTS
IN THE NEWS
Classmate Gary Clare recently took a fireworks training course in Clearfield and became certified to LEGALLY shoot off Fireworks!! He was invited to shoot off the fireworks for the Altoona Curve Baseball team on June 5th. This was the Cancer Walk of Hope Night and 6,000 fans were present. Here's the link to the show: Game of Hope Fireworks.mov. Good job, Gary!
---
DON'T FORGET TO REGISTER!
REGISTRATION DEADLINE: JULY 1, 2022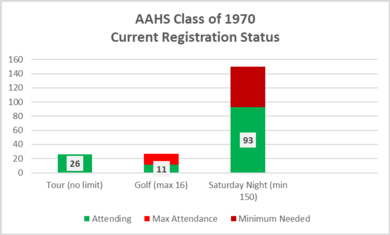 ---
---
AAHS Class of 1970 Endowment Fund
In spring 2022, several members of the Altoona Area High School Class of 1970, in part to commemorate their belated 50th reunion, partnered with the Altoona Area School District (AASD) Foundation to launch the "AAHS Class of 1970 Endowment Fund."
The new endowment fund, currently with contributions/pledges of more than $7,000 and an overall goal of $25,000, was created as "a gift in perpetuity" to benefit the high school. The Class of 1970 is the first class to utilize a named endowment, which will literally "pay dividends" to the school for many years to come. We hope you will take advantage of this opportunity and contribute (either one-time or ongoing) to make this project a success.
Under the AASD Foundation, our tax-deductible contributions, will be pooled and invested until the $25,000 goal is reached sometime in the next few years. A small committee of class donors along with the foundation will be established to monitor and help guide the fund and determine how proceeds might best aid the high school.
The endowment fund will be discussed briefly at the AAHS Class of 1970 reunion on Saturday, July 30, 2022, in Altoona. Questions can always be directed to our website (info@aahs1970.com) or to Paula Foreman at the AASD Foundation by email (pforeman@altoonasd.com) or phone (814-946-8424
TWO WAYS TO CONTRIBUTE ANYTIME
1. Check payment:
Payable to: AASD Foundation (Write "AAHS Class of 1970" in the for/note/memo section.)
Address: AASD Foundation, 1201 8th Avenue, Altoona, PA 16602
2. Online:
www.aasdfoundation.org
Click DONATE tab and then click Donate Online next to "AASD Foundation." The "Campaign/Fund" button will default to the AASD Foundation.
When making your contribution, write in the "Donor Comments" section: "AAHS Class of 1970 Endowment Fund."
---
ANNOUNCEMENT FROM
AAHS CLASS OF 1970 REUNION COMMITTEE
Hello Classmates,
On behalf of the Reunion Committee, we want to thank you for your support of our efforts to put together the last few reunions. It's been an interesting experience for all of us. After much discussion, we've decided that the upcoming reunion in July of 2022 will be our last as a committee. There are several reasons for this:
Apparent dwindling interest from classmates (based on current registrations)

Lingering issues from the pandemic

Old age and tired bones
We originally thought about announcing this at the reunion, but we're writing now, as we wanted to encourage you to come out for one last gathering. We also didn't want anyone to be under the impression that we would be planning a 55th.
That said, we have a subscription for the website that is good through 2026 (and can be extended). I (Dave) intend to keep this going at least that long. If there are classmates who want to try to organize further gatherings (either for the entire class) or more local events, I will be happy to build announcements, event pages, etc. for you. I would expect all planning to be done by that group and my participation would simply be communication. If you are interested, please contact me at info@aahs1970.com or see me at the reunion.
We're still hopeful that we can get together in July. Please register as soon as possible, but please be aware that the absolute deadline for registration is July 1, 2022. If we do not reach at least 150 attendees, we will be forced to cancel the reunion as costs will prevent us from moving forward.
AAHS Class of 1970 Reunion Committee
---

REGISTER NOW!
LOGAN JR. HIGH ALUMNI "MINI" REUNION
Coleen Leidy , Lenny Alwine and Anne Seno are inviting all 1970 Classmates who are alumni of Logan Jr. High School to a "mini" reunion. Here's the information:
Where: Lakemont Park (Pavilion #1 - circled in red on map below)
When: June 18th, 2022
Time: 11:30 am to ???
Cost: NONE
Here's a great opportunity for all you LOGAN JR. HIGHers to catch up with each other prior to our main reunion in July.
Sandwiches will be provided.. Alumni and family members please bring your own place settings, a covered dish for sharing share and your own drinks. FYI, alcoholic beverages are permitted within your pavilion. Bring your photos and other memorabilia to share.
UPDATE: Discounted ride passes ($15.95 plus tax per person) are available If 20 people or more sign up for them (see below). Passes include miniature golf, bumper cars, paddle boats....everything but batting cages.
There are group rates available for ride passes at the park, however batting cages will require full price.
You can sign up online at this link: LJHS mini-Reunion or RSVP to 814-695-0193.
REUNION REGISTRATION IS NOW OPEN FOR ON-LINE MEMBERS.
Please feel free to register as soon as you're ready. Deadline for registration is July 1, 2022. To register, click here or select the REGISTER for our "50th+2" REUNION item on the left menu.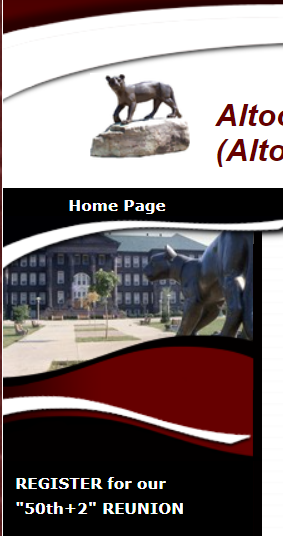 <====
For those who are not members, we are in the process of creating a mailing that will go out on or about May 1. Please note, if you are a member of the website you will NOT be receiving this mailing.
Once classmates register, you should see a symbol next to their name on the CLASSMATE PROFILES page. See our Info on "50th+2" Reunion page on the website.
---
---
SPECIAL REQUEST!
Hi all...we have a special opportunity at our reunion this year. Our DJ, Laine Roland (Awe-Struck Entertainment) is the daughter of deceased classmate Colleen Mosser. She is very excited to come to the reunion and hopes to hear about her mom from those of us who knew Colleen. Laine was only 16 when her mom passed.
If you have stories to share, please plan to introduce yourself to Laine at the reunion. She is also planning to bring her mom's yearbook for you to sign. However, it would be nice to give her a more permanent record of recollections. If you are willing, please go to Colleen's "In Memory" page (click here) and add your recollection. We will find a way to pull all of these off the site and present them to Laine at the reunion. Please take advantage of this special request as a way to honor Colleen's memory and give her daughter some special remembrances.
---
DONATE TO "50+2" REUNION
Some of you have already told us that you'd like to donate to the 2022 Class Reunion. CLICK HERE to Donate. If you don't like to donate on line you can send checks to:
AAHS Class of 1970
900 Amelia Drive
West Chester, PA 19382
---
VIDEOS...VIDEOS...VIDEOS
Check out our new videos page (click here). Thanks to Larry Callan for finding these videos on the High School and Roosevelt. Feel free to recommend other videos that you think the class might find interesting.
---
There have been
240,351

visits to this Home Page from classmates to date.
---

You can find us on FACEBOOK too! Click the logo above to go to our FACEBOOK page.