Altoona Area High School (Altoona, PA)

ANNOUNCEMENTS
2021 "50th+1" REUNION CANCELED
The Reunion Committee has met and decided that due to continuing uncertainty caused by COVID-19, we will be

CANCELING

the reunion scheduled for July. We have introduced a survey for you to help us to determine how we should proceed with future reunions. You can either click here or use the "Future Reunion Plans" link on the left menu to go to the survey. It will only take a few minutes as there is only one question to be answered. We will allow entries to the survey through the end of April.
---
VIDEOS...VIDEOS...VIDEOS
Check out our new videos page (click here). Thanks to Larry Callan for finding these videos on the High School and Roosevelt. Feel free to recommend other videos that you think the class might find interesting.
---
---
We just received word of an upcoming new CD Release featuring the music of deceased classmate, Steve Prosser. The album is in pre-release, but will be available soon at cdbaby. Depending on interest, we may be able to secure a discount on the CD (currently at $20.00/ea). If you're interested, please contact me at info@aahs1970.com and I will follow up to see what we can work out.
Below is the press release from singer Kris Adams (with her permission):
---

On Her 4th Album "We Should Have Danced", Kris Adams Sings the Music of Steve Prosser
Available October 15, 2018
Pre-Release Show: Cornelia Street Cafe, September 4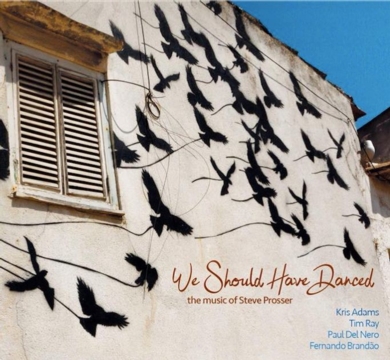 Jazzbird Records is proud to announce the October 15th release of Kris Adams' long-awaited fourth album We Should Have Danced: The Music of Steve Prosser. Featuring Adams' original lyrics and arrangements by pianist Tim Ray, We Should Have Danced is a deeply personal, poignant collection of music featuring the compositions of the late Steve Prosser, Adams' former husband, for chamber jazz quartet. The release of We Should Have Danced will be celebrated on September 4th at the Cornelia Street Cafe in New York City.
Beloved and respected by so many, Prosser lived a remarkable life as a Berklee College of Music professor for over thirty years; a decade of which was spent helming the ear training department as its chairman. On campus, Prosser was known for his passionate teaching style, talented musicianship and his larger than life persona. Prosser and Adams met at Berklee in 1981 and married in 1987. Though they separated in 2006, they remained close friends. "Besides being a master teacher, Steve was a vocalist, composer, jazz pianist, lawyer and bird lover. He loved to have his ear training students transcribe bird songs. And he and I had a running joke around the house. He would quiz me on which bird song we were hearing in the yard. Music was everything to him. Composing and arranging was something he loved to do but didn't have the desire to put his music out there. But I loved his music so making this CD is my gift to him," says Adams.
After Prosser's passing in 2012, Adams came across a folder titled "Songs for CD" amongst the items left behind for her. Inside was a trove of Steve's original music with many of the tunes having been written during their 19 year marriage. Inspired in some cases by Prosser's poetry and in other cases, by the melodies themselves, Adams wrote lyrics to some of her favorites which then were arranged by Tim Ray. "My mind was filled with images and emotions, searching to put into words what I felt from the music that he wrote," says Adams. Bassist Paul Del Nero and flautist Fernando Brandão were then added to enrich the project.
Standout tracks include the autobiographical album opener "Prophecy", which tells of the couples' first meeting, the poignant "Summer Moon Above", which features lyrics pulled from Prosser's original poem "Less Than Nothing" and the hauntingly beautiful album closer "Without You", which Prosser originally titled "For Kris". Funny and quirky, Prosser titled one song "Mumbling" which Adams retitled "Imaginings" after writing the lyric. All of the songs were retitled by Adams except for the title track, "We Should Have Danced".
Four years in the making, "We Should Have Danced" is a poignant and commemorative body of music that not only celebrates the genius of Steve Prosser but the palpable love of these two creative musicians.
"Simply put, this is the story of our lives lived together".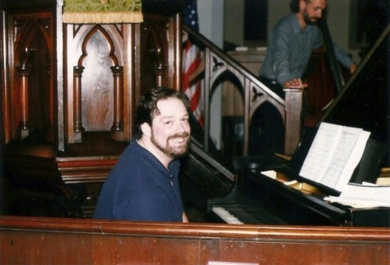 Steve Prosser
About Kris Adams:
Kris Adams began singing at an early age having grown up in a music loving family. Her grandfather played organ by ear and her mother played piano. Kris began singing on stage in a touring children's theater as a young teenager and had her first professional gigs at the age of 19 in Connecticut, singing in a latin-jazz band that the late saxophonist Tom Chapin was a member of.
Kris left Hartford to attend Berklee College of Music and New England Conservatory. She released her first CD, "This Thing Called Love" in 1999 and her second, "Weaver of Dreams" in 2002. Both were collaborations with pianist/arranger, Steve Prosser. She recorded her third disc, "Longing" in collaboration with trumpeter/arranger, Greg Hopkins. Kris has shared the stage with Joe Lovano, Wayne Escoffery, Lee Musiker, Cameron Brown, Billy Drummond, Bill Pierce, Harvie S, Jay Leonhart and Michelle Hendricks.
Kris is currently on faculty at Berklee and is author of the book "Sing Your Way Through Theory" (Hal Leonard). She has performed and given clinics in New England, New York, Los Angeles, Brazil, Germany and Italy, at the Fara Sabina Jazz Festival alongside Jonathan Kreisberg, Kevin Hays, Reuben Rogers and Gregory Hutchinson.
---
There have been
205,670

visits to this Home Page from classmates to date.
---

You can find us on FACEBOOK too! Click the logo above to go to our FACEBOOK page.